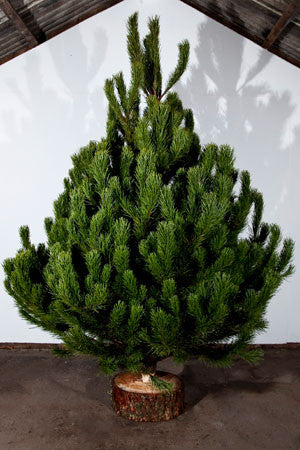 6ft Scotch Pine Real Christmas Tree
The Scotch Pine / Lodgepole Pine is not only fragrant, but has excellent needle retention. This long needled variety sometimes has pine cones as an additional feature too. Ideal for people who want to decorate earlier than most as it will last longer than any of the other varieties of tree. The branches grow upwards from the base, giving this tree a very individual look. This tree is ideal for Schools, businesses, pubs, as well as the home. These trees are cut trees and as such do not come with a stand.
We will send your tree out two days before your required delivery date to make sure the carriers meet your date, but PLEASE NOTE the tree might arrive the day BEFORE. Please also note we do not ship past the Scottish Borders. If you are based above the border PLEASE DO NOT PLACE ORDER.
Please describe a safe place the courier can leave your purchases. These are left at your risk.
---
We Also Recommend